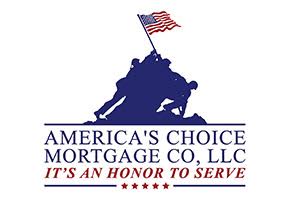 America's Choice Mortgage, LLC
http://www.AmericaschoiceMortgage.com

Sandy Grimes
sandygrimes@verizon.net
540-720-2916

The America's Choice Mortgage Co, LLC Team is your premiere mortgage team located in Stafford, Virginia. We pride ourselves on offering some of the lowest rates nationwide and make the loan process simple, straightforward and fast for borrowers seeking a mortgage in the Virginia area. Whether you are first time home buyer, purchasing your dream home, refinancing an outstanding loan, or consolidating debt, our highly experienced team of mortgage brokers can help you take that first step toward a financial solution.

As Virginia's leading Mortgage Company we alleviate the typically drawn-out loan process, pre-qualifying borrowers within one hour and providing a written pre-qualifying letter to present with their Purchase Contract.

At America's Choice Mortgage Co, LLC, our ultimate goal is to create lasting relationships with each of our clients so that we may continue providing excellent service for many years to come.


Bridge Title Inc.
http://www.BridgeTitleInc.com
Shaun Germain
spermain@bridgetitleinc.com
703-621-2220

Bridge Title & Dominion Law Center ,P.C. provide comprehensive real estate information including title insurance, escrow and closing services as well a title and abstract reporting. We perform title and settlement services on residential, commercial, new construction, investment and distressed property.


Ultimate Home Services
http://www.bizapedia.com/va/ULTIMATE-HOME-SERVICES…
Jason Portell
ultim8homeservices@gmail.com
VA Lic. 2705114675 e
571.274.1178

Contractor, commercial and home renovations construction, licensed and insured. Home remodeling, extensions, windows, roofing.